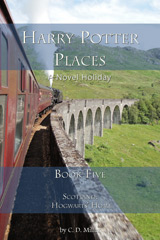 Free Sample
8.99
LUMOS SCOTLAND
No setting could be more perfect for a magical School of Witchcraft and Wizardry than the majestic grandeur of Scotland. So it is no surprise that J.K. Rowling selected Scotland as the home of Hogwarts, or that several Scottish locales served as film sites.
Part One: Edinburgh
No, it wasn't mentioned in the books, nor did any filming take place here. Scotland's capital city, however, is where J.K. Rowling found safe harbor while she was a penniless single mother struggling to finish Harry Potter and the Philosopher's Stone (Sorcerer's Stone). Furthermore, after becoming a world-wide phenomenon and multi-millionaire, JKR continues to call Edinburgh her home. Thus, Edinburgh is an important Potterite destination.
The Ambulatus Edinburgh chapter includes three Potter Maps of the city and four suggested Potter Trek Itineraries to help you visit Edinburgh JKR Haunts such as: Nicholson's Restaurant (Site #54)—now the Spoon Café Bistro—the primary Philosopher's Stone writing site … The Elephant House (Site #51), a secondary writing site for Philosopher's Stone … and The Balmoral Hotel (Site #50), where Rowling finished writing Harry Potter and the Deathly Hallows in 2007.
Part Two: The Scottish West Highlands
Here is where you'll find all the magical mountains and glens, rivers and lochs, seen in aerial shots of the countryside that surrounds Hogwarts Castle.
POTTER PLACES in the SCOTTISH WEST HIGHLANDS Include:
The Clachaig Inn Area, Glencoe (Site #58): Visit the hillside where three Prisoner of Azkaban sets were built—including Hagrid's Hut—and view the vistas filmed for backgrounds seen in several Potter movies. Because all Scottish West Highlands Potter Places are convenient to this area, we strongly suggest that you lodge in this area for the entirety of your west highlands visit, so that you can enjoy being surrounded by familiar Hogwarts landscapes for several days.
Fort William West Highland Railway (Site #59): Between May and October you can personally experience a portion of Harry's journey to Hogwarts by boarding the Jacobite Steam Train for a round-trip ride between Fort William and Malliag. The route includes Glenfinnan Viaduct—a bridge no Potterite could fail to recognize.
Steall Falls, Glen Nevis (Site #66): Enjoy a relatively easy and remarkably picturesque hike to the wonderful waterfall often spied beyond Hogwarts' Quidditch Stadium. Potterites willing to brave a cable bridge can be photographed as though flying a broomstick in front of these familiar falls!
Part Three: Horcrux Hunting in Northern Scotland—and Beyond!
This section includes Potter Places found on the north coast of Scotland, the west coast of Ireland, and a little village in Norway. These locations are for Potterites with plenty of holiday time and a determination to visit every Potter Place on the planet.
Please Note: Only the Irish Potter Places in Book Five's Part Three are actually related to Horcrux Hunting. However, we thought that a good title for the last section of the final Harry Potter Places travel guidebook.
Preview Harry Potter Places Book Five
Click on the FREE SAMPLE button above …
Visit the Harry Potter Places YouTube Channel to watch Videos such as:
Professor Chas' Preview of Harry Potter Places Book Five
Tara's 2009 trip to Edinburgh & the Scottish West Highlands
See Location Pix pared with Movie Screenshots on our
Harry Potter Places Book Five Pinterest Board
HAPPY POTTERING!!!
*BUY THE PDF NOTES:
Do NOT use a Smart Phone to Buy the PDF! The file is too large, and the download will fail. Some tablets also may be unable to handle the download. Use a desk-top or lap-top computer to Buy the PDF.
This is a PDF, not an eBook. It is best viewed on a computer screen.
To obtain a KINDLE eBook, go to the Harry Potter Places Book & Travel Store. For Nook and other eReader devices, look for Harry Potter Places in the online store where you regularly purchase eBooks.