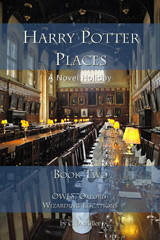 Free Sample
5.99
LUMOS OWLs
Four Must-See Harry Potter Places are Found in Oxford's City Centre.
Home to some of the most recognizable of all Harry Potter Places, Oxford is easily visited via public transportation from London.
Christ Church College (Site #31)
Seen in all eight Harry Potter movies, the Hogwarts Great Hall set is an almost-exact reproduction of Christ Church College's Dining Hall. Actual location filming for Sorcerer's Stone and Chamber of Secrets took place here, as well.
New College (Site #32)
Several Goblet of Fire courtyard scenes were shot here, including the incident when Mad-Eye Moody turned Draco Malfoy into a white ferret.
The Bodleian Library (Site #30) contains two Potter Places:
Duke Humfrey's Library where Hogwarts' Library scenes were shot.
The Divinity School where Hogwarts' Infirmary scenes were filmed, as well as Goblet of Fire dance lessons.
A Fifth Potter Film Site is a Mere 8 Miles Northwest of Oxford:
Blenheim Palace (Site #29)
Order of the Phoenix flash-back scenes of young Severus Snape being bullied by James Potter and his entourage (Sirius Black, Remus Lupin, and Peter Pettigrew) were shot on the shore of Blenheim Palace's lake, near a readily recognizable tree.
Preview Harry Potter Places Book Two by
Clicking on the FREE SAMPLE button above …
Visiting the Harry Potter Places YouTube Channel Videos, such as:
Professor Chas' Preview of Harry Potter Places Book Two
Tara's 2009 trip to Oxford
See Location Pix pared with Movie Screenshots on our
Harry Potter Places Book Two Pinterest Board
HAPPY POTTERING!!!
*BUY THE PDF NOTES:
Do NOT use a Smart Phone to Buy the PDF! The file is too large, and the download will fail. Some tablets also may be unable to handle the download. Use a desk-top or lap-top computer to Buy the PDF.
This is a PDF, not an eBook. It is best viewed on a computer screen.
To obtain a KINDLE eBook, go to the Harry Potter Places Book & Travel Store. For Nook and other eReader devices, look for Harry Potter Places in the online store where you regularly purchase eBooks.