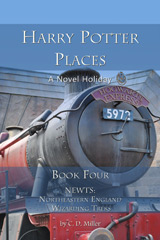 Free Sample
8.99
LUMOS NEWTs
Northeastern England is home to six Wizarding sites for your Potter Trek pleasure. Three of them are particularly wonderful!
Goathland Railway Station (Site #46): On the very first day of Harry Potter and the Sorcerer's Stone filming—September 29th, 2000—cameras rolled at Goathland's train station. Oddly enough, day one's footage was of the trio leaving Hogwarts and didn't appear until the end of the movie. The next day, the trio was filmed arriving at Hogsmeade Station for the first time. Because so little of this station's real-life appearance was altered to accomplish these scenes, the moment you step foot on the platform you'll feel as though you've been magically transported into Harry's world.
Durham Cathedral (Site #45): This is where several exterior and interior Hogwarts School scenes were filmed for Sorcerer's Stone and Chamber of Secrets. Professor McGonagall's iconic classroom is here. Additionally, the Half-Blood Prince background seen behind one of the saddest moments in all the Potterverse can be viewed by those who trek to the top of Durham Cathedral's Central Tower.
Alnwick Castle (Site #44): Few Potter Places on the planet are as much fun to visit as this one. Many memorable Hogwarts Castle exterior scenes were filmed here. Walk where Harry received his introduction to Quidditch in Sorcerer's Stone. View the battlements soared over by the Weasley Flying Ford Anglia in Chamber of Secrets. No other UK film site has so enthusiastically embraced and accommodated Harry Potter fans. Alnwick Castle offers a plethora of Potter-Related tours and activities. They even provide you with a broom to use when participating in one of their daily Broomstick Training Sessions—held on the very spot where Harry's first lesson was filmed!
Preview Harry Potter Places Book Four
Click on the FREE SAMPLE button above …
Visit the Harry Potter Places YouTube Channel to see videos such as:
Professor Chas' Preview of Harry Potter Places Book Four
Tara's 2009 trip to Potter Places in Northeastern England
See Location Pix pared with Movie Screenshots on our
Harry Potter Places Book Four Pinterest Board
HAPPY POTTERING!!!
*BUY THE PDF NOTES:
Do NOT use a Smart Phone to Buy the PDF! The file is too large, and the download will fail. Some tablets also may be unable to handle the download. Use a desk-top or lap-top computer to Buy the PDF.
This is a PDF, not an eBook. It is best viewed on a computer screen.
To obtain a KINDLE eBook, go to the Harry Potter Places Book & Travel Store. For Nook and other eReader devices, look for Harry Potter Places in the online store where you regularly purchase eBooks.