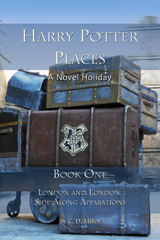 Free Sample
9.99
LUMOS LONDON
London is home to more Harry Potter Places than any other location in the world.
There are 18 Central London Potter sites, and 10 London Side-Along Apparations—including the Warner Brothers Studio Tour that opened in the spring of 2012.
No matter how many days you have in London, Harry Potter Places Book One will help you visit the most Potterrific Places within your holiday's timeframe.
CENTRAL LONDON POTTER PLACES INCLUDE:
The Sorcerer's Stone Leaky Cauldron (Site #8) film site in Leadenhall Market.
The Prisoner of Azkaban Leaky Cauldron (Site #7) film site in Borough Market. BTW: If you follow our directions when visiting this site, you'll chat with the Posh Banger Boys and may be able to finagle a very special Potter photo op!
Little Whinging Zoo (Site #9): The London Zoo is home to Sorcerer's Stone film sites that should not be missed, as well as a multitude of Non-Potter related exhibits thoroughly enjoyed by visitors from everywhere in the world.
Number 12 Grimmauld Place (Site #15): Contrary to erroneous Potter Place location information posted on the Internet and in print for YEARS, London's Lincoln's Inn Fields is not where #12 Grimmauld Place scenes were filmed. Harry Potter Places investigators found the REAL Grimmauld Place film site, and we'll take you there!
Platform Nine & Three Quarters (Site #16): No Potterite can travel to London without trekking to King's Cross and Saint Pancras railway stations.
WHAT ARE "LONDON SIDE-ALONG APPARATIONS"???
London Side-Along Apparations are Potter Places located outside of Central London that you can quickly reach via the underground or by train, visit, and then return to London—usually allowing time to trek to a few other London Potter sites on the same day.
FOR EXAMPLE:
At Surbiton Train Station (Site #20) you can visit the little café where Harry made a date with a flirty waitress before being whisked off to Budleigh Babberton by Dumbledore in Half-Blood Prince.
Or, you can have your photo taken in front of Hermione's Home (Site #21), the place where she grew up with her beloved Muggle parents—a Deathly Hallows Part One film site.
The Harry Potter WB Studio Tour (Site #27) is a MUST-SEE London Side-Along Apparation! This chapter will help you decide when to go there, how to get there, and how to enjoy another Potter Place found across the street.
PLEASE NOTE: If your London traveling party includes individuals who—Gasp!—aren't Potterites, you'll find more than enough Non-Potter info in each chapter of Harry Potter Places Book One to plan a UK holiday that will be enjoyed by ALL!
PREVIEW HARRY POTTER PLACES BOOK ONE
Click on the FREE SAMPLE button above …
View the Harry Potter Places YouTube Channel Videos, such as:
Professor Chas' Preview of Harry Potter Places Book One
Tara's 2009 trip to London
Tara's 2009 trip to London & its Side-Along Apparations
See Location Pix pared with Movie Screenshots on our
Harry Potter Places Book One Pinterest Board
HAPPY POTTERING!!!
*BUY THE PDF NOTES:
Do NOT use a Smart Phone to Buy the PDF! The file is too large, and the download will fail. Some tablets also may be unable to handle the download. Use a desk-top or lap-top computer to Buy the PDF.
This is a PDF, not an eBook. It is best viewed on a computer screen.
To obtain a KINDLE eBook, go to the Harry Potter Places Book & Travel Store. For Nook and other eReader devices, look for Harry Potter Places in the online store where you regularly purchase eBooks.